Woman Dissed By Tinder User Over 'Awful' Dress Is Now Modeling It On ASOS's Website! – Perez Hilton
A woman who was told by a Tinder user that the ASOS dress she was wearing in one of her photos looked "awful" has had the last laugh, because now she's modeling the outfit on ASOS's website!
It all started on April 28 when Thea Lauryn Chippendale (above) received some nasty, unsolicited fashion advice from a man named George, who apparently felt the need to tell her that the outfit she had on was "not doing [her] any favours."
After she responded with a bewildered "Excuse me?," George proceeded to mock her premium lace midi dress from ASOS — which he called a "charity shop job"– and encouraged her to shop elsewhere, writing multiple times, "Hope this helps."
Video: Cardi B Gives Anatomy Lesson To Trolls Who Claim She Exposed Her 'Kitty Cat'
Well, it did help… but not at all in the way that the Tinder jerk expected.
The 20-year-old shared the messages on Twitter in an effort to "expose the sort of things that happen with women and men on Tinder," she later told Radio 1 Newsbeat. See (below):
Men are trash. (Included the pic he's on about 🙃) pic.twitter.com/3pi6NHl0Oy

— Thea Lauryn Chippendale 🌹 (@theachippendale) April 28, 2019
As you might have guessed, her tweet went viral. It earned over 103,000 likes, 8,200 retweets, and countless messages of support — including one message from ASOS asking if she'd like to be on the product page for the dress!
Thea said yes, not at all expecting the company to actually go through with it. But on Thursday, she was blown away when the fashion website tweeted to confirm that it had made good on its word.
Gurl was actually in the gallery on the page where the outfit was being sold (!!!):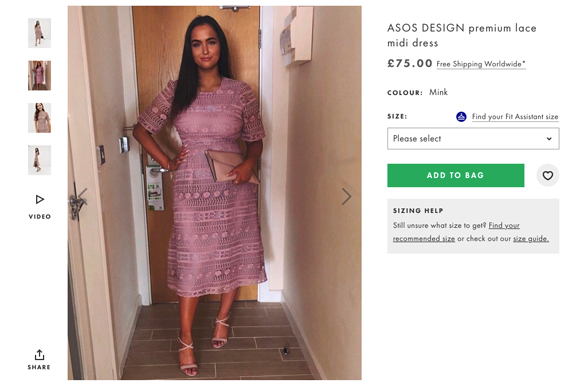 YASSSOS!
The student said she's "absolutely gobsmacked" that ASOS actually put her on the website, adding:
"I've had to pinch myself quite a few times to believe it's real… I am still very in a state of shock this is all happening, purely from someone just being horrible to me. I can't believe something so negative has turned into something so positive."
In general, people are pretty positive! It's just people like George who give others a bad name.
At least, that's what Thea appeared to learn from all this. She said of the overwhelming support she's received:
"I'm absolutely blown away by mainly how positive the reaction has been. People have just been really positive and really nice about me about the way I dress."
Looks like that dress is doing her some favors after all!
@theachippendale Swipe right to see who had the last laugh… https://t.co/CKcqyDk1d9 pic.twitter.com/gkzgoAAfJ5

— ASOS (@ASOS) May 2, 2019
[Image via Thea Lauryn Chippendale/Twitter]
Read more: http://perezhilton.com/