Wendy Williams Confirms Estranged Husband Kevin Hunter Had A Secret Daughter With His Alleged Mistress! – Perez Hilton
Wendy Williams' life has turned into its very own Hot Topics segment, and she's finally ready to spill the tea!
In a new interview with The New York Times, the daytime diva confirmed her soon-to-be ex husband Kevin Hunter has a secret daughter with a woman he was having an affair with. As fans know, Wendy was hospitalized back in March after ditching her sober house
When the NYT interviewer asked her to clear the air on the drama, Wendy was quick to acknowledge the daughter her husband's infidelity allegedly produced, and confirmed the existence of said love child is what made her walk out of their 22-year marriage.
She told the publication:
"Kevin had a major indiscretion that he will have to deal with for the rest of his life. An indiscretion that I will not deal with. He will always be my family, because we have a 19-year-old son, and we were together for 25 years and married for 21. But there was no vacillating. I'm out. That's all I can say."
Well, not really — because she immediately went on to address the fans who apparently want her to speak poorly about her allegedly unfaithful hubby.
She continued:
"People want me to hate and scream and talk. I won't. It bothers me that people say [Williams begins to cry] — it bothers me that people say, 'Keep it as clean as you can, because you have a child together.' That's not the main reason to keep it clean. The main reason I won't talk badly about Kevin is that he was my first true love. I will not have people talk badly. I talk filthy about him, but that is when I get in my apartment and the door is closed and I am talking to myself in the mirror. I never thought that I would be in this position. I'm a very forgiving person, but there's one thing that I could never be a part of, and that one thing happened."
When the interviewer asked what that "one thing" was for Wendy, she replied:
"Kevin has a daughter."
Oh, gurl… we been knew. For a while now. But thanks for finally confirming it!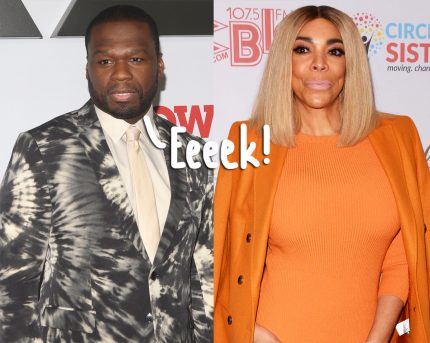 Read more: http://perezhilton.com/