USC Cleans House! Do Firings Help Lori Loughlin's Legal Case?? – Perez Hilton
Did Lori Loughlin's legal case just get a big boost?
The Full House star and fashion designer hubby Mossimo Giannulli are two of the final holdouts who refused to plead guilty after being indicted as part of Operation Varsity Blues, the FBI sting operation on a ring of college admissions bribery and cheating.
Accused of bribing officials in the USC athletics department with an astounding HALF MILLION DOLLARS in order to get their daughters registered as members of the crew team (even though they didn't row crew), Lori and Moss are facing charges of fraud, bribery, and even money laundering — crimes with total sentences of up to 50 years behind bars.
Sadly for Aunt Becky fans, it seemed like federal prosecutors had them over a barrel, what with all the hard evidence in the indictment.
But we recently learned the wily celeb parents have a legal defense they think can beat all that — they just have to prove to a jury they thought they were making perfectly legal donations. Hmm. We're not sure that's how the law works, but let's play along for a moment.
The so-called exculpatory evidence the Giannullis' legal team has is that no checks were written directly to any of the USC staff — but one is made out to "USC" itself. That implies they thought it was a regular donation to the school, not some back-channel bribe to an individual. At least, that's how the defense will argue it.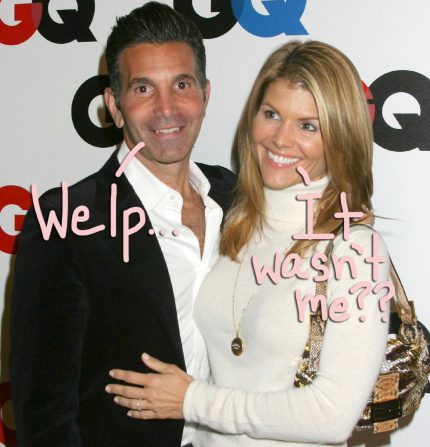 CLICK CLICK CLICK Next Article
Read more: http://perezhilton.com/