Toni Braxton Is 'Heartbroken' Over Death Of 24-Year-Old Niece Lauren – Perez Hilton
Toni Braxton is "still in disbelief" over the sudden death of her 24-year-old niece.
As we reported, per TMZ, Lauren "LoLo" Braxton, whose father is Toni's younger brother Michael Conrad Braxton Jr., died in Maryland on Monday.
Video: Tamar Braxton 'Ridiculed' By Pilot For Being Black?!
Per her dad, LoLo's death was related to a heart condition.
On Wednesday, the Un-Break My Heart singer posted a photo on Instagram of her and Lauren with the caption:
"R.I.P to my amazing niece Lauren 'Lo Lo' Braxton…
I'm still in disbelief and so very heartbroken… Love you…always auntie 'Te Te'"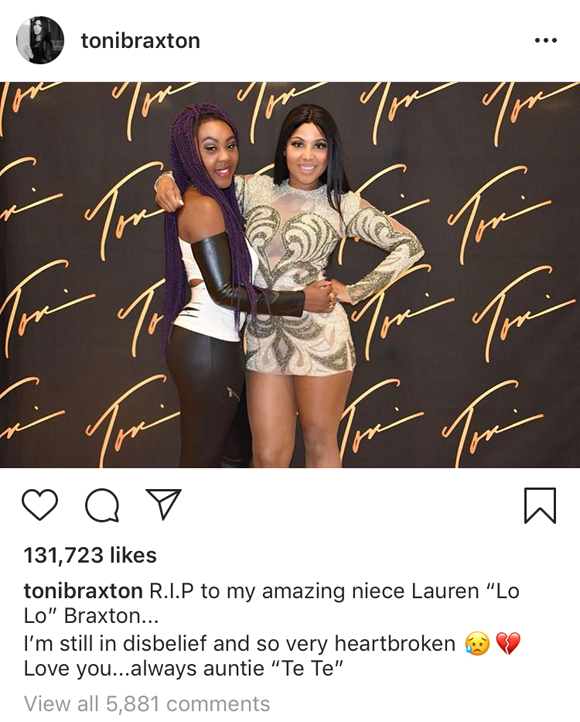 Reportedly, after receiving a 911 call around noon on Monday, law enforcement arrived at LoLo's residence, and found her unresponsive.
Per the police report, a friend said she was talking to LoLo in her kitchen, and went upstairs for just 10 minutes. Reportedly, when the friend returned to the kitchen, Lauren was on the floor.
She was later pronounced dead by paramedics.
On Tuesday, aunt Trina Braxton shared a photo of her niece, with the text:
"God sent me another angel! Rest in Heaven Lauren 'LoLo' Braxton.'"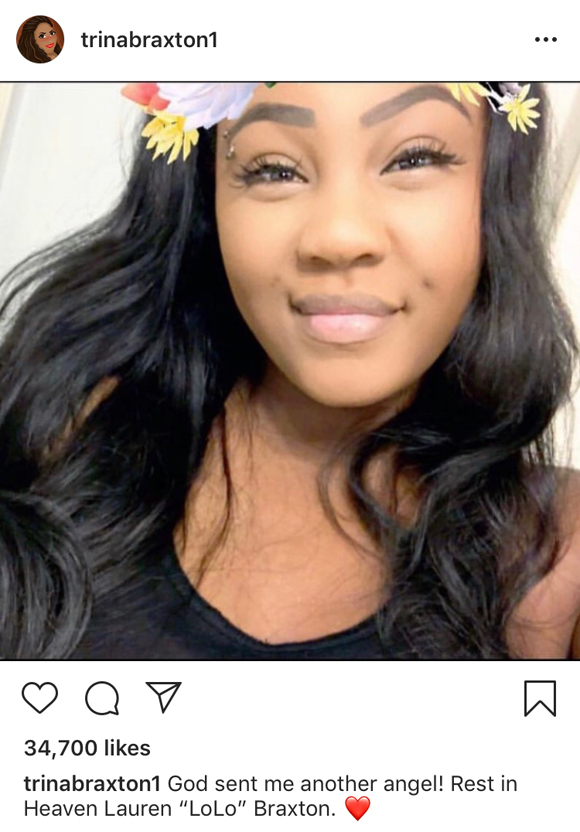 Traci Braxton also told several outlets:
"LoLo was more than my niece, she was my daughter; and I, my son and husband are truly heartbroken over her passing."
Michael is the only son of the Braxton siblings, and has appeared on episodes of his sisters' reality show Braxton Family Values along with Towanda and Tamar Braxton.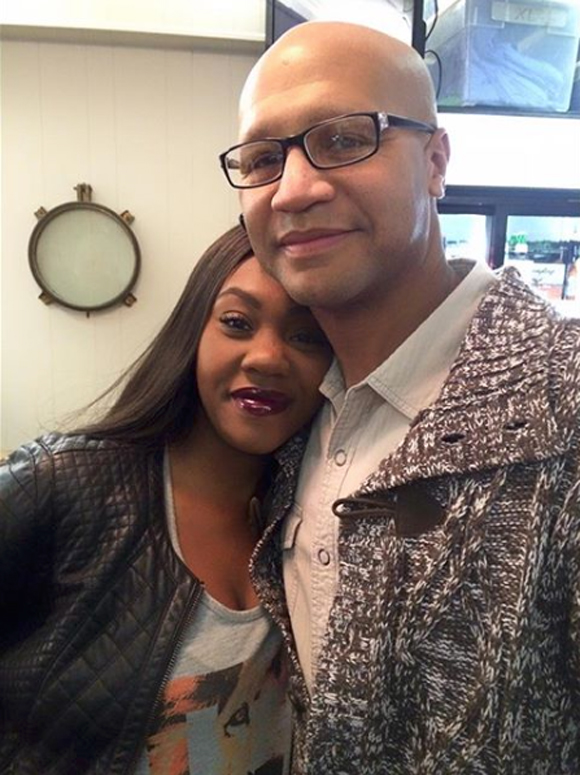 As we reported in December 2018, Trina's ex-husband, Gabe Solis, passed away because of cancer. He was 43.
Gabe and Trina got married in 2003 but divorced in 2015. Their marital problems were documented on Braxton Family Values, and the two were even featured on an episode of Iyanla: Fix My Life.
In September 2018, on an episode of Wendy Williams' daytime talk show, Tamar revealed she was molested by multiple family members. She said on the program:
"I've been battling myself about whether or not I want to say what happened or not … I'm Tamar and I'm real, right? A lot of things happened in my childhood that I was too afraid to talk about. Too ashamed to talk about. But the truth of the matter is I have been molested by both sides of my family."
Though she did not name her abusers in the interview, she later took to social media to explain why she decided to reveal her secret. Tamar penned:
"Today Wendy asked me what happened at my sisters meeting and why did I walk out. Since someone there decided that they would ask me about something so private, so embarrassing, so secretive in front of EVERYONE that was there, I felt like my life was flashing before my eyes and IMMEDIATELY started to cry. Not because someone decided to allow someone else to tell MY SECRET, not because I was asked if it were True in front of a hundred strangers, but because once again my right to choose was taken from me all over again. I decided to Tell Wendy and the world MY secret, MYSELF that I have been a victim of abuse not once, twice, ten, but multiple times by multiple 'family members' I've never told ANYONE other than Two people in my life and they both have held this close to them. One Being the man that I am with now and EVERY, SINGLE DAY he says I'm so beautiful and my scars makes me even more attractive. I felt that because this has happened to me recently, that something HAD to be done about people who DID know and tried to make People embarrassed and ashamed about something that has happened to them!!! I never EVER again want anyone to feel so little and so small or even ashamed about something they had no control over. I wanted to create a space where you can tell your OWN story with out anyone commenting or making you feel ashamed EVER again!! Go to and tell your story and empower yourself starting today! I wanted you to know that no matter how many scars you have… you are the PRETTIEST… I love you all so much noneedTBshame.com'"
R.I.P. LoLo. You will be missed.
[Image via Lauren Braxton/Instagram/FayesVision/WENN.]
Read more: http://perezhilton.com/