R. Kelly's Explosive Interview With Gayle King – Twitter Reacts! – Perez Hilton
On Wednesday morning, CBS aired
He has continued to maintain his innocence against all allegations that were made in the documentary Surviving R. Kelly, and pleaded not guilty in court on February 25. If convicted of all charges, he could face up to 70 years in prison. Previously, he was acquitted of child pornography charges in 2008.
Currently he is out on bond.
Following the interview, the parents of 23-year-old Joycelyn Savage, one of the young women currently living with the singer in Chicago, held a press conference from their home in Decatur, Georgia (watch it HERE), maintaining their claim that their daughter has been brainwashed. In his piece with Gayle, the 52-year-old singer that Joycelyn and 21-year-old Azriel Clary are his "girlfriends" and were "absolutely" handed over to him by their parents at concerts.
Naturally, people on Twitter had a lot to say about the interview.
See some of the best reactions (below)!
Gayle's Composure
Despite the antics often put on by the disgraced singer during the 80-minute filming of the interview, the host maintained her composure, and received plenty of praise for it.
Gayle when R Kelly stood up ranting and carrying on #CBSThisMorning pic.twitter.com/zWcIrW1Gvy

— DKT (@darleneturner53) March 6, 2019
This is wild. @GayleKing is again teaching a master's class in interviewing. She remains so calm and focused while @rkelly loses it. https://t.co/8IUtssouzt

— Yamiche Alcindor (@Yamiche) March 6, 2019
I'm gonna assume that anyone marveled by Gayle's composure during the #rkellyinterview has never been around a black woman.

— Local Hero (@Poppadontpreach) March 6, 2019
Gayle's facial expressions are everything.

— deray (@deray) March 6, 2019
The symbol of women everywhere.
Tired.
Fed up.
Used to your lies.
Over your tears.
Composed to a stunning degree.@GayleKing ❤️ pic.twitter.com/UvX1VehuI7

— Zara Rahim (@zara915) March 6, 2019
There's a lot going on in these R. Kelly clips. But one thing that jumps out is how direct, super clear and no frills these questions are by @GayleKing. She's asking exactly what most of us would ask if we were in her seat. Crazy how refreshing it is. Speaks to how rare it is. https://t.co/Pt0ISn32sM

— Ava DuVernay (@ava) March 6, 2019
Let's not forget that her bestie Oprah Winfrey knows how to give a killer interview, too, as she recently interviewed Michael Jackson's accusers following the premiere of Leaving Neverland. The media mogul was equally as impressed as we were with her BFF for staying unfazed during the interview:
Bravo @GayleKing for calm and and steady focus during #RKelly interview. Outstanding job!
Tell @CBSThisMorning we want to see the whole thing.

— Oprah Winfrey (@Oprah) March 6, 2019
R. Kelly's Behavior
During the interview, the I Believe I Can Fly singer continued to maintain his innocence, often raising his voice, speaking in circles, and even standing up at a point.
I have met with some of R. Kelly's victims.

The man is lying.

I lost count of the lies he told in this interview with Gayle King. It's in the dozens of lies.

He is a disturbing sociopath.

— Shaun King (@shaunking) March 6, 2019
Rkelly talking to Gayle right now #rkellyinterview pic.twitter.com/L9A7vJbLqg

— Larceny (@CocoKhaleesi) March 6, 2019
Saw clips of R. Kelly interview w/ Gayle & thought, hmmmmm – where have I seen a performance like that before? pic.twitter.com/jNLB6h7Svz

— Baritone Liberavoice (@redstmiscreant) March 6, 2019
This #RKelly interview with Gayle King gives me classic narcissistic vibes. I don't think he will ever own up to his behavior, and messing around with underage girls because narcissist truly have a way of taking their wrongdoings and twisting them around to blame everyone else. pic.twitter.com/pYcXT1Z80q

— TheSafePlace (@ItsTheSafePlace) March 6, 2019
Catching Heat
While the subject of the interview isn't funny, if you need a good laugh, Twitter (obviously) has you covered.
Me getting ready for this Gayle interview in the morning pic.twitter.com/AloK7RJuJx

— DKT (@darleneturner53) March 6, 2019
First Jada Pinkett interview Jordyn Woods, then Oprah interview Michael Jackson's accusers & now Gayle King interviewing R. Kelly…

Happy Women's History Month! @JadaPSmith @Oprah @GayleKing pic.twitter.com/4fL7n9Tdm8

— Jerome Trammel (@MrJeromeTrammel) March 6, 2019
Me watching R. Kelly yell at Gayle King claiming he's innocent pic.twitter.com/EUdasD7sDQ

— Nicole Perez (@nicole_perez1) March 6, 2019
Live look at R Kelly's lawyers after the Gayle King interview #RKellyGoingToJAIL #rkellyinterview pic.twitter.com/nsLwZcZioW

— Paco (@PacoRadioShow) March 6, 2019
Me watching R. Kelly act a damn fool in front of Gayle King 😒 pic.twitter.com/JZIBjh4Kwh

— Immortal Object™️ (@IAmEliOneil) March 6, 2019
THAT Picture
It you haven't already seen the image (below) circulating, the CBS This Morning host sits calmly while the Ignition singer loses his cool and is held back by his publicist during an outburst.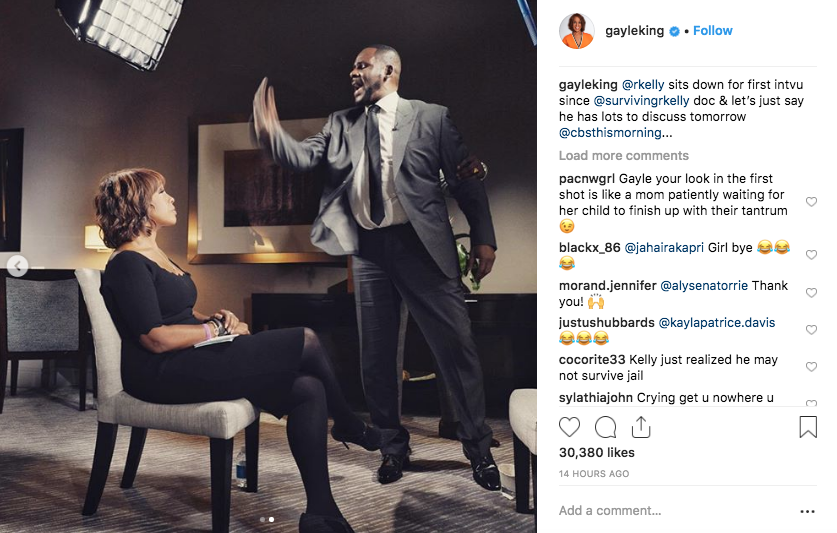 And social media users went WILD for it:
give gayle the emmy just for this picture https://t.co/Gs70Cs5nWj

— Jack Mirkinson (@jackmirkinson) March 6, 2019
I want to be 'Gayle King' unbothered in this life. pic.twitter.com/wjE5Xq04Hu

— Dénola Grey (@DenolaGrey) March 6, 2019
Every single one of us can learn from @GayleKing x pic.twitter.com/YZSUL7hiiJ

— James Corden (@JKCorden) March 6, 2019
My god this photo of R. Kelly and Gayle King pic.twitter.com/vwlum58ZWq

— Kevin Fallon (@kpfallon) March 6, 2019
The photo of R. Kelly yelling at Gayle King should remind everyone that rape isn't about sex. It is an act of violence, about power and control.

— Michelle Bhasin (@michellebhasin) March 6, 2019
[Image via CBS/YouTube.]
Read more: http://perezhilton.com/