Prince Harry Touches Down In Canada To Join Meghan Markle & Archie Following 'Very Honest' Charity Speech – Perez Hilton
Prince Harry is doing his best to shield his family from the continued Megxit fallout.
On Monday night, the 35-year-old touched down at Victoria International Airport (see the photos
Ahead of the arrival of her Prince, the Suits alum was all smiles while spotted out (pics HERE) for a hike through the Horth Hill Regional Park with baby Archie, her dogs Guy and Oz, and two royal protection officers.
We can imagine not only was she excited to reunite with her husband, but relieved to hear his heartfelt speech at a charity event the day prior where he made it clear the drastic changes currently underway were his call, not just hers.
Royal expert Katie Nicholl voiced her opinions to ET following his candid words about the Sussexes new life:
"He said it was his decision to walk away and that really he had no choice. This was a joint decision and I think Prince Harry's been very magnanimous by taking it all on himself. I think he's simply doing that to protect Meghan."
She added:
"We pretty much saw Harry say that himself in that speech for the charity Sentebale. He's always been very honest about his emotions and I think you could see that heartache quite clearly written all over his face."
Unsurprisingly, many are placing blame for Megxit on Meghan and insinuating (or outright saying) she is forcing Harry away from his family. According to his own remarks and Nicholl's thoughts, that couldn't be further from the truth:
"Over here, all of the headlines are dominated by one word: Megxit. The insinuation being that she is responsible for this move [and] pulling Prince Harry over to North America. It's really not the case. I think Harry has been looking for a way out — a way for a new life — and Meghan has simply been the catalyst. But make no mistake — this was a joint decision. Harry didn't make it on his own and Meghan didn't force him into it."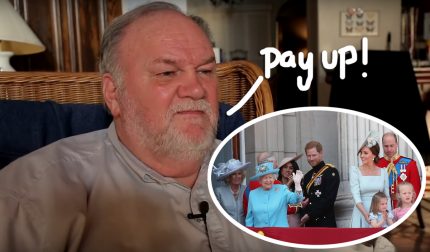 Read more: http://perezhilton.com/