Pink Claps Back At 'Disgusting' Haters Over Photo Of Her Son Without A Diaper – Perez Hilton
Why do trolls always come for the kids?
While on a family vacation, Pink stood up to the mommy haters on Instagram after they attacked her in the comments section of a photo with her children Jameson Moon and Willow Sage.
The So What singer deleted the initial, non-edited version of the snap after some users left her comments about her son not wearing a swim diaper in the photo.
Soon after, the three-time Grammy Award winner reposted the photo (below) with a scribbled doodle over his bottom half along with an updated caption.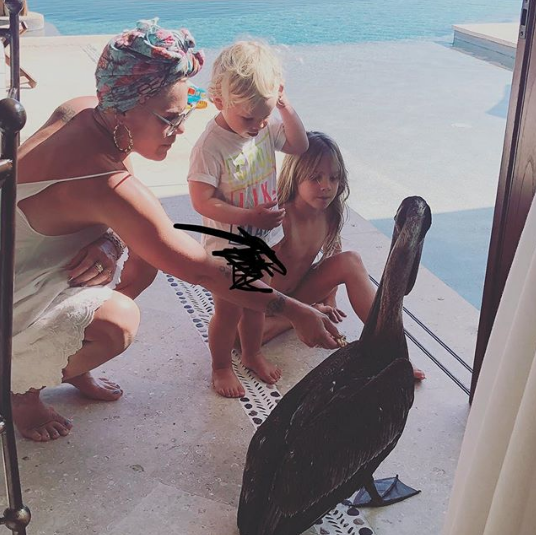 Shutting off the comments, the mom of two wrote:
"There's something seriously wrong with a lot of you out there. Going off about my baby's penis? About circumcision??? Are you for real? As any normal mother at the beach, I didn't even notice he took off his swim diaper.

I deleted it because you're all f**king disgusting. And now I'm turning off my comments and shaking my head at the state of social media and keyboard warriors,

And the negativity that you bring to other people's lives. There is something seriously wrong with a lot of you out there. Smfh. Here's a picture of the pelican we obviously caught and abused for hours before dangling baby penis in its face."
Tell 'em!!
Unfortunately, this isn't the first time that the Just Like Fire singer has had to defend her parenting choices.
Especially as the songstress is currently on the road for her seventh world tour with husband Carey Hart and their kids, adorably documenting their adventures as they visit various American cities on her IG.
The star shared a sweet family photo in early March with her husband of 13 years and two children sitting down for dinner (below):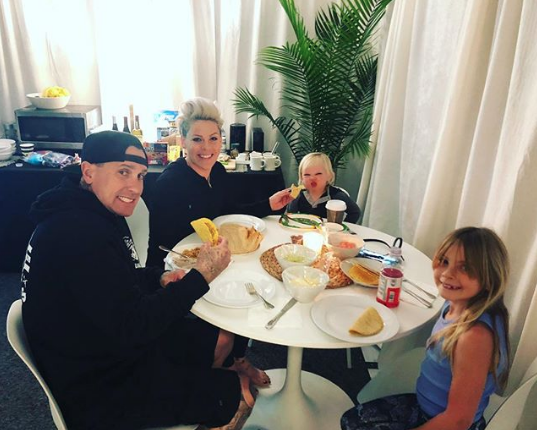 The Just Give Me A Reason singer quickly clapped back at a troll who commented on the public photo of their taco night spread: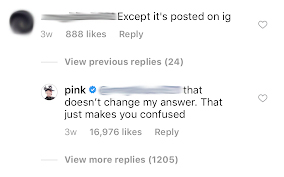 Just a reminder to never go after Pink!!
What do you think about her most recent response though, Perezcious readers? Uncalled for, or totally understandable? Sound off (below) in the comments!!
[Image via Pink/Instagram.]
Read more: http://perezhilton.com/