Paris Hilton Admits She STOLE Iconic Catchphrase 'That's Hot'! – Perez Hilton
That's… not hot.
Paris Hilton has achieved many things in life, but nothing as widespread or long-lived as her iconic catchphrase, "That's hot."
Shortly after her rise to mainstream fame on The Simple Life, the two-word saying basically became her mantra. Now, ten years later, the hotel heiress has made a shocking, cold revelation: she stole "That's hot" from her sister, Nicky Hilton Rothschild!
The stunning admission came in a chat with Vogue about the latest decade in pop culture, during which the socialite explained:
"I started making shirts that said 'That's hot' and on the back they said 'You're not.' It was cute. 'That's hot' was something that my sister always used to say, but I trademarked it and I own it. Sorry, Nicky."
Sorry, Nicky indeed!
Paris also reminisced about something else she made iconic back in the day: pink Juicy Couture tracksuits. She said of the brand:
"As soon as I put on my first Juicy tracksuit, I was obsessed. I said, 'Please send me more. I want the full collection. Every single color.' I just fell in love with the brand and it basically became my uniform. I have an entire closet that's only Juicy Couture. It's somewhere I go every single day and just put on my Juice."
Unsurprisingly, the company wasn't complaining about Paris' passion for Juicy-wear. She continued:
"I was not only wearing them to the airport or just to chill in my house in. I was going out at night in them and I was rocking them with everything. So I think that they loved that I was kind of like the face of the brand."
Soon, the world followed (track)suit.
The 38-year-old shared:
"I remember after The Simple Life aired all the sudden I started seeing Juicy Couture everywhere. When you looked through any tabloid people were always rocking them. People are going to the airport wearing them, people are going out in them, people are doing music videos in them. This is not just in LA, I would see people wearing them all around the world."
So iconic, even after all these years!
But now we're wondering if Paris stole her first Juicy tracksuit from Nicky's closet…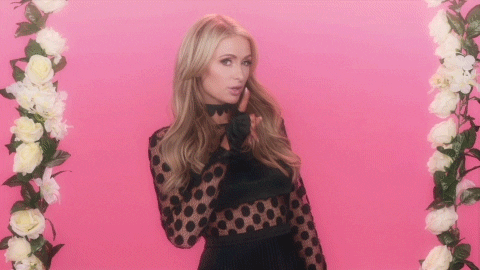 Ch-ch-check out the starlet's full interview with Vogue (below) to see what other confessions she makes!
Related Posts
Read more: http://perezhilton.com/