Nicki Minaj Argues With Fans After Comparing A$AP Rocky's Detainment To Her Experience With Jamaican Police! – Perez Hilton
Nicki Minaj knows what A$AP Rocky is going through… sort of…
The Barbie Dreams rapper is getting some heat for her tweet in support of the recently jailed rapper, as she compared his ongoing plight with Swedish authorities to a scary experience she had while performing in Jamaica some years ago.
As we reported,
The hip-hop community quickly began rallying behind the 30-year-old rapper, with fellow artists telling their fans to sign a petition demanding his release from custody.
Nicki wanted to throw some support as well — while sharing her own experience with foreign law enforcement she felt shared some similarities to Rocky's incarceration. She tweeted on Tuesday: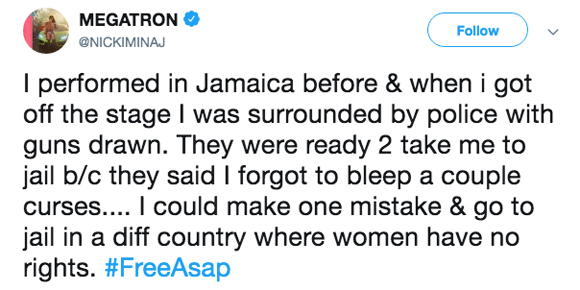 The anecdote came hours after the raptress announced she was pulling out of her performance at Jeddah World Music Fest in Saudi Arabia in an effort to stand up for women's equality, LGBTQ rights, and freedom of expression.
She told the Associated Press earlier that day:
"After careful reflection I have decided to no longer move forward with my scheduled concert at Jeddah World Fest. While I want nothing more than to bring my show to fans in Saudi Arabia, after better educating myself on the issues, I believe it is important for me to make clear my support for the rights of women, the LGBTQ community and freedom of expression."
Many applauded Minaj for pulling out of the festival, as gender segregation between single men and women is still enforced in many Saudi Arabian restaurants, coffee shops, public schools, and universities.
Her tweet about Jamaican law enforcement, however, didn't go over as well.
Many were confused as to how Minaj's story connected to Rocky's situation, while others felt she was unfairly comparing the Jamaican government to Saudi Arabia's: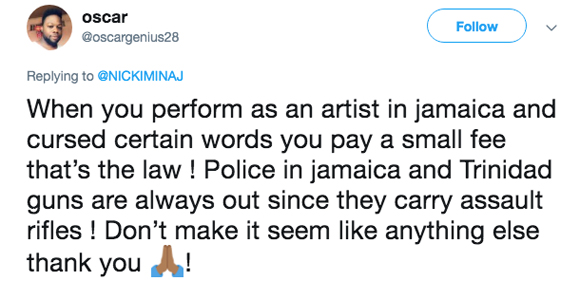 Much of the criticism came from Barbz who live in Jamaica, who told the rapper women in the country very much do have rights:

Of course, plenty of Barbz were quick to defend the artist: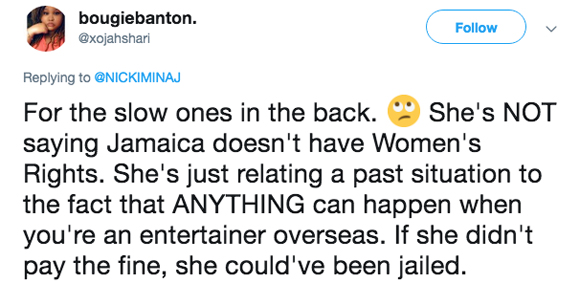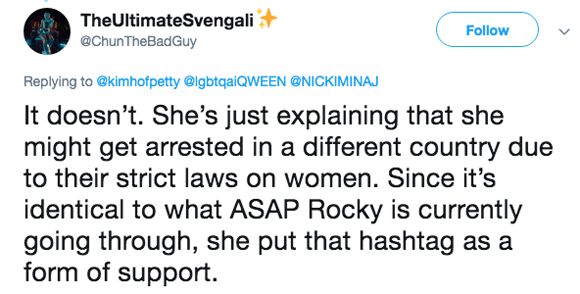 Nicki went on to defend herself in a follow up tweet "for the ppl in the back," writing: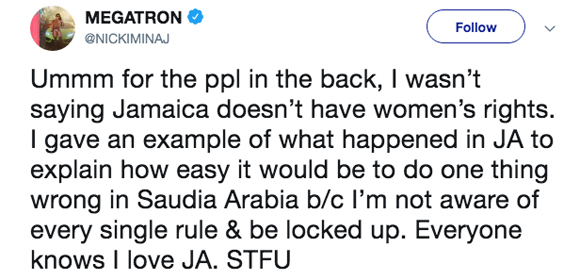 Thanks for clarifying, gurl!
The rapper is actually making an important point about the precarious nature of international travel — and the fact Americans take their freedoms for granted.
Though clearly many would be happy if she could do so without lumping foreign countries together…
What do U think, Perezcious readers?
[Image via WENN]
Read more: http://perezhilton.com/