Miley Cyrus, JWoww, & More Celebs Send Britney Spears Love After Her Video Update To Concerned Fans! – Perez Hilton
Miley Cyrus is not interested in your
The post was immediately flooded with love from fans and fellow stars, including JWoww, Lisa Rinna, and Hayley Kiyoko. Paying tribute to her pop predecessor, Miley wrote in the comments:
"We love u so much queen"
The Jersey Shore star also sent some love, writing with four pink heart emojis:
"Love you Britney"
The encouraging comments kept coming in. Kiyoko wrote, "WE LOVE YOU," while model Tess Holliday also threw in a "We love you queen!!!!!!"
Britney's boyfriend, Sam Asghari, made sure to remind fans to give the pop icon the privacy she deserves, commenting on the post:
"Sometimes showing respect and privacy is the best support people can offer. #bestfans."
Noted!
Meanwhile on Twitter, the Real Housewives of Beverly Hills star made sure the mother-of-two was getting love on that platform, too. She tweeted on Tuesday night:
"God Bless @britneyspears."
But not every fan was willing to share their support — as many still feel there's something fishy going on with Brit's situation.
In the post's lengthy caption, the songstress accused her former manager Sam Lutfi of writing "fake emails" years ago where he reportedly posed as the pop star trash-talking her dad, Jamie Spears. The claim seemingly implied that these emails were the source of the "rumors" about her involuntary stay in the treatment center.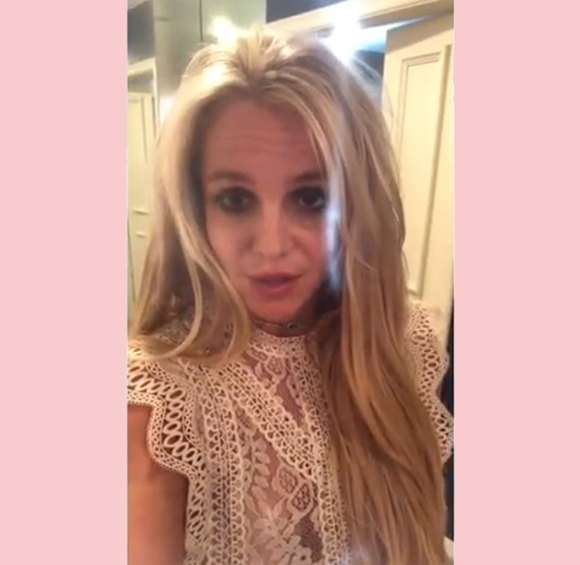 Lutfi responded to the accusation hours later, writing on Twitter that he "never wrote nor had access to [Britney's] email." He argued that the accusatory post was her team's attempt to "overshadow the FreeBritney movement," and went as far as to suggest that the mother-of-two was forced to break her silence on social media.
The speculation continued after Spears posted a sexy Instagram workout later Wednesday, with many convinced the video was recorded well before her recent mental health woes. One concerned commenter wrote:
"Who is posting on her page?? The Britney we saw a few days ago does not look capable of using her phone!! What are these people trying to cover up?? It's too obvious by now that something is very wrong here! What have you guys done to Brit?? We need to see her on LIVE!!!"
Clearly, #FreeBritney believers have no plans to respect Brit's privacy while she focuses on recovery.
Luckily for them, the pop star is at the end of her 30-day treatment program and should be back on her feet soon!
[Image via FayesVision/WENN]
Read more: http://perezhilton.com/