Meghan Markle & Prince Harry Unfollowed The Royal Family On Instagram – Here's Why! – Perez Hilton
Welp, that didn't take very long!!
It only took
The @sussexroyal account now follows a mere 16 people, unfollowing Kensington Royal (Prince William, Kate Middleton, Prince George, Princess Charlotte, and Prince Louis' account that the parents-to-be once shared before creating their own profile), Clarence House (Prince Charles and Camilla, Duchess of Cornwall's account), Princess Eugenie, Prince Andrew, and The Royal Family (the Queen and other royal family members).
We seriously hope there are no hard feelings. LOLz!!
But all the unfollowing is for a good reason. The Duke and Duchess of Sussex explained their choice:
"May is Mental Health Awareness Month in the US and May 13-19 is Mental Health Awareness Week in the UK.

To pay tribute to all of the incredible work people across the globe are doing in this space, we are hoping to shine a light on several Instagram accounts that promote mental well-being, mental fitness, body positivity, self-care, and the importance of human connection – to not just hear each other, but to listen."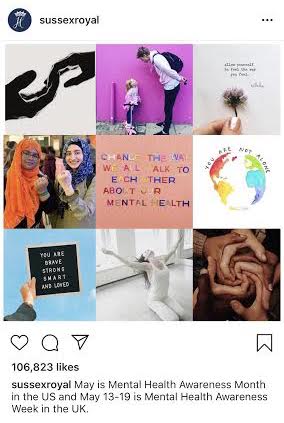 Wow, what a great idea! The couple continued:
"There are countless organisations doing amazing work for mental health – please consider the accounts we've highlighted as a small snapshot of this global support network.

We are all in this together.

We invite you to explore the extraordinary stories of strength, and the commitment to kindness as seen in the above accounts."
They concluded, sharing that each month the accounts will be rotated out based on a theme:
"Each month we will honour this same concept and change the accounts we solely follow based on a different theme or cause. Please go to our homepage and click 'following' to see each of the select accounts and find out more about their work.

Please note: Images shared are from some of the handles we are now following."
Meanwhile in the comments section, some followers didn't appreciate the post notification so close to the due date of the royal baby, LOLz:
"Stop it. I thought it was a baby announcement"

"Why y'all trying to give us a heart attack with a notification?! And then it's not the baby🤦🏽‍♀️"

"Thought it's baby news😫🙆🏾… so restless over here"

"These alerts are so suspenseful 🤦🏻‍♀️"
Way to keep us on our toes, Meg!!
We think this is an excellent use of their growing platform, which is creeping up on @kensingtonroyal in follower count, BTW!
[Image via John Rainford/WENN.]
Read more: http://perezhilton.com/