Meghan Markle Consoled Prince Harry During One Of His 'Very Emotional' Last Royal Appearances – Perez Hilton
Meghan Markle and Prince Harry have likely been experiencing a LOT of emotions over the past few days.
As you're likely aware, the couple recently wrapped up their final events as senior members of the royal family during a visit to the UK. Among the appearances was attending the Mountbatten Festival of Music at the Royal Albert Hall, where the pair stunned in coordinating red ensembles.
While Meg wore a stunning caped gown, Harry put on his military uniform, which represents his role as Captain General of the Royal Marines, for the last time. ICYMI, the 35-year-old served in the Army for 10 years, rising to the rank of Captain and completing two tours in Afghanistan. However, part of the Megxit agreement in place means his honorary military positions will be suspended.
A source explained (below) to People:
"That was very emotional for him. That's 10 years of his life that he gave to serve his country, and he basically has to give it away now because he's choosing to protect his family."
The insider added:
"Deep down they are truly in love with each other, and what you see is truly who they are."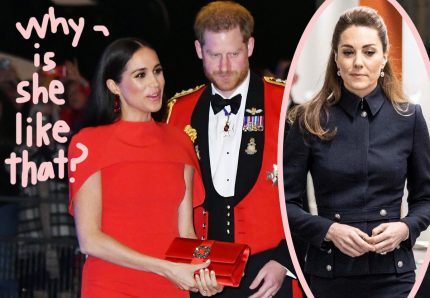 Read more: http://perezhilton.com/