Martha Stewart Politely Shades Gwyneth Paltrow's Goop Empire AGAIN: 'Good Luck, Gwyneth'! – Perez Hilton
Martha Stewart thinks it's cute stars like Gwyneth Paltrow are still coming for her throne!
The lifestyle guru threw some lightly seasoned shade at the Avengers: Endgame actress during a recent interview on Barstool Sports' The Corp with Alex Rodriguez, where the 78-year-old made it clear she's not a fan of Gwynny's popular website, Goop.
It came up when A-Rod asked the businesswoman how she would describe "what Gwyneth Paltrow is doing today versus what Martha Stewart created years ago" — to which she replied:
"I don't follow Goop. Sometimes I look at products that she's selling…"
Yup… she basically invoked the power of Mariah Carey. That says it all!
Stewart went on to say she wishes every "young" entrepreneur the best of luck — whether they're movie stars like Paltrow or "hardworking women" like herself. She added:
"I wish every young entrepreneur well and I hope that there are many, many, many different kinds of entrepreneurs… if they're movie stars or hardworking women like I am, who are not movie stars… If they have a good idea, I want them to be able to succeed. So good luck, Gwyneth."
Uh… is it just us, or did she fold more even shade into those "well wishes"? Why does Martha saying "good luck, Gwyneth" almost sound like a threat?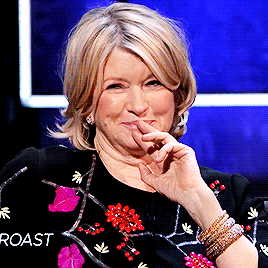 Maybe it's because this is far from the first time she's dissed the star's company. In 2013, Stewart made it clear she will always be the lifestyle OG, telling Bloomberg TV:
"Gwyneth, for example, has a book on the best-seller list. She must be doing something right. She's a charming, pretty person who has a feeling for lifestyle. She wants to be a lifestyle arbiter. Fine. Good. I think I started this whole category of lifestyle."
Martha walked so Gwyneth could tell women to shove crystal eggs up their vag!
A year later, the OG fired a more direct shot at the 46-year-old (as well as former lifestyle guru, Blake Lively) in an interview with Net-a-Porter, saying:
"[Paltrow] just needs to be quiet—she's a movie star. If she were confident in her acting, she wouldn't be trying to be Martha Stewart."
The actress responded to the diss shortly after, joking:
"No one has ever said anything bad about me before, so I'm shocked and devastated… I'll try to recover."
But Gwynny also seemingly took Martha's shade in stride, adding:
"If I'm really honest, I'm so psyched that she sees us as competition. I really am."
Despite Goop being hit with multiple lawsuits and countless allegations of deceptive marketing, the website appears to be doing better than ever — whether Martha Stewart approves or not!
[Image via FayesVision/WENN]
Related Posts
Read more: http://perezhilton.com/