Lamar Odom Gets Emotional Talking Kobe Bryant In New TV Interview – Perez Hilton
The entire world is mourning Kobe Bryant, but for those who knew him personally this is a whole other ordeal — as his former teammate Lamar Odom calls it, "a long-lasting nightmare."
The NBA alum gave his first TV interview about his friend's passing on Good Morning Britain Tuesday morning, and it was clear how much the loss had impacted him.
Even with new fiancée Sabrina Parr beside him giving her full support, the 6'10 man seemed just utterly crushed, barely getting out the words:
"It seems rather surreal. This feels like a long-lasting nightmare."
He continued, pausing to get out each thought:
"I'm gonna miss him dearly. His tutelage… His strong will… I'm just blessed I was able to… rub shoulders with that man, and have a little bit of that magical dust sprinkled off on me."
Lamar then reflected on Vanessa Bryant and the rest of Kobe's family, who had lost more than a hero, more than a role model, more than a friend:
"I know I'm feeling really bad, and his fans are, I can just imagine how his children and wife and his mother and father feel right now."
GMB co-host Susanna Reid commented on the emotional state Lamar was in, saying it looked "as if a part of you was ripped away."
Lamar then restated something he had said on his Instagram feed on Sunday, comparing the loss of "brother" Kobe to the loss of his infant son:
"I haven't really felt a pain or a shock like this since my son passed away in 2006… um…"
Then he just sort of trailed off. It was clear he was deeply affected by what he was saying.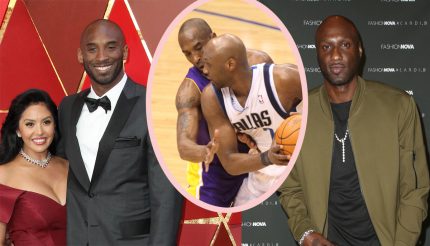 Read more: http://perezhilton.com/