Katy Perry's Team 'Will Continue To Fight' Jury's Decision In 'Dark Horse' Copyright Infringement Lawsuit! – Perez Hilton
Katy Perry and her Dark Horse collaborators may have
Maintaining there was "no infringement" because Dark Horse featured widely used fundamental elements of music, the statement argued:
"The writers of 'Dark Horse' view the verdicts as a travesty of justice. There is no infringement. There was no access of substantial similarity. The only thing in common is unprotectable expression — evenly spaced 'C' and 'B' notes — repeated. People including musicologists from all over are expressing their dismay over this."
It's true. Since the case went public, numerous music experts agreed it's unfair to block an artist from using what Perry's attorney described as the "building blocks of music."
Musician and composer Adam Neely recently made a video about the case, in which he pointed out how the two songs in question "don't share the same melody nor the same chord progression or baseline or drum groove," only a repeated melodic fragment that has been used in variations throughout music history.
The statement was issued by Perry's attorney, Christine Lapera, on behalf of the song's writers — which include Perry; producers Dr. Luke (Lukasz Gottwald), Cirkut (Henry Walter), and Max Martin (Karl Sandberg); rapper Juicy J (Jordan Houston); and lyricist Sarah Hudson.
Hinting that this wouldn't be the end of the case, the statement concluded:
"We will continue to fight at all appropriate levels to rectify the injustice."
The decision came five years after rapper Flame filed a lawsuit claiming Katy's hit track copied his song Joyful Noise. The artist's attorneys argued the beat and instrumentals in his song are significantly similar to what is heard through almost half of Dark Horse.
Lapera argued in court that Flame can't claim infringement as it would set negative precedents for music and artists everywhere. She said on Thursday:
"They're trying to own basic building blocks of music, the alphabet of music that should be available to everyone."
If that's true, there really is a lot at stake here.
So, we guess it's a good thing Katy and her camp are coming at their accusers like a… well, you know.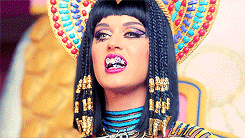 [Image via WENN]
Related Posts
CLICK CLICK CLICK Next Article
Read more: http://perezhilton.com/