Here's What The Kardashians REALLY Thought About Kourtney, Scott, & Sofia's Group Vacation! – Perez Hilton
When we first told you about how good things were between Kourtney Kardashian, Scott Disick, and Sofia Richie — so good that they were able to vacation together — it almost seemed too good to be true!
Well, it turns out we weren't the only ones who felt this way.
In a new clip from this upcoming Sunday's episode of Keeping Up With the Kardashians, the KarJenners finally speak their mind on the unique and (mildly) controversial trio's dynamic.
Our readers know that seasons of KUWTK often air way after the juicy drama on-screen has already transpired in real life.
In this case, we get to see what Kim Kardashian West, Khloé Kardashian and Kris Jenner had to say about this initially surprising Mexico getaway that happened back in December: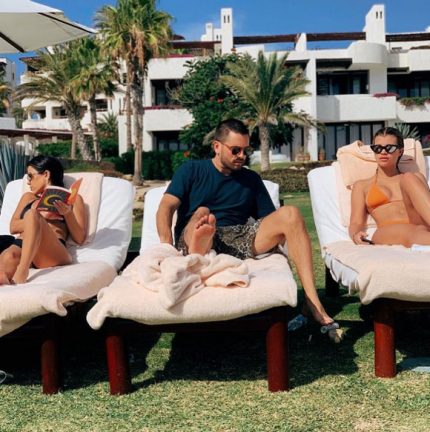 In the clip, Mrs. West was the first to speak up about the photo, incredulously asking her family:
"Oh my god! Did you see Scott—what he just posted? It says, 'What more could a guy ask for? Three's Company.' And it's him, Kourtney and Sofia in Mexico."
But then momager Kris gets straight to the point it in her confessional, saying:
"To be honest, it's a little confusing. Kourtney and Scott and Sofia on vacation together…What is happening?"
WATCH the conversation unfold (below):
KKW did her best to defend her sister's actions, claiming that Kourtney just wanted "a trip with the kids." This defense doesn't sit well with Jenner, who reminds her other daughters that Kourtney "can pick up and go to Mexico any day of the week." And she definitely doesn't need Miz Richie with her to do so!
The 64-year-old admits that there's a deeper concern here about the Poosh creator's well-being later down the line, fearing Kourt will regret being so friendly with her ex and his new flame:
"My fear is that she can't make up her mind. She can't pick a paint color, that takes months. I'm just saying—because of her indecisiveness—it's going to bite her in the ass. And, she's gonna be the one deciding way too late that she is in love with Scott and wants to spend the rest of her life with Scott."
Ultimately, her concern is that "somebody is gonna end up getting really hurt in this scenario."
Spoken like a true caring mother and manager, indeed!
For her part, Khloé commented:
"She doesn't know what the f**k she wants."
Excuse us while we gawk at the irony here. Not only was True Thompson's momma indecisive about her own relationship decisions as recently as this past year (hey, getting cheating on will do that to you!), but she also tweeted out a show of support for the group when the pic started creating a buzz on social media.
See (below):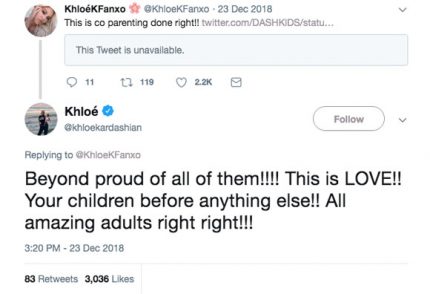 So, who's side are you really on here, KoKo?
In the meantime, sources recently shared with Us Weekly that Disick and Richie are going strong and considering tying the knot pretty soon. They reportedly also have Kourtney's full blessing, too.
What do YOU guys think? Do you think momma Kris could be right about this all blowing up in everyone's faces later? Or do you believe the ship has sailed, and things are truly all good?
Tell us in the comments section below!
[Image via Keeping Up With The Kardashians/YouTube]
Read more: http://perezhilton.com/