49 People Dead After 'Terrorist Attack' At 2 New Zealand Mosques, One Shooting Live-Streamed On Facebook – Perez Hilton
Our heart is with New Zealand today.
At least 49 people have died and 20 remain injured after two targeted shootings at Mosques in New Zealand on Friday. Around 1:40 p.m. local time, police responded to a "serious firearms incident" at Masjid Al Noor Mosque in Christchurch. Nearby place of worship, Linwood Masjid, was attacked soon after.
41 people were reportedly killed at the Masjid al Noor Mosque, while seven died at the Linwood Masjid Mosque. One passed away from their injuries in a hospital. Explosive devices were also found inside vehicles on scene later, New Zealand authorities confirmed.
As of this publishing, a 28-year-old man has been charged with murder and is due to appear in the Christchurch District Court tomorrow morning. Four people, three men and one woman, are still in custody.
Prime Minister Jacinda Ardern addressed her nation with an emotionally stirring speech, calling this incident, "New Zealand's darkest day."
She continued by saying that it was indeed an act of terrorism, and New Zealand was targeted because they are a place that celebrates multiculturalism. She also shared:
"We were chosen because we represent diversity, kindness compassion, a home for those who share our values, a refuge for those who need it and those values, I can assure you, will not and cannot be shaken by this attack… These are people who I would describe as having extremist views that absolutely no place in New Zealand and no place in the world."
In a truly disturbing turn, a gunman live-streamed one of the shootings on Facebook Live. The video has since been removed by the social networking site. In the clip, the man entered the Mosque and began firing, and even returned to rooms he already hit to fire a second time on the already injured. After leaving, pedestrians were shot at as well, and he continued firing through the city's central business district.
Also in the video, the gunman references controversial YouTube star PewDiePie:
"Remember, lads, subscribe to PewDiePie."
In response to this, the content creator released the following statement on Twitter: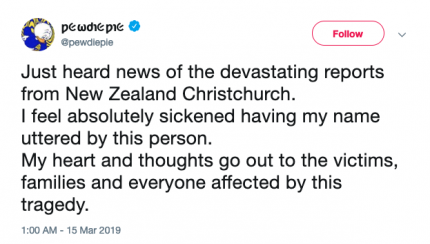 Authorities released the following statement on the footage:
"Police are aware there is extremely distressing footage relating to the incident in Christchurch circulating online. We would strongly urge that the link not be shared. We are working to have any footage removed."
New Zealand Police Commissioner Mike Bush has also asked Mosques across the country to close until further notice. In today's press conference he shared:
"I want to ask anyone that was thinking of going to a mosque anywhere in New Zealand today not to go, to close your doors, until you hear from us again."
In addition to this, other Mosques around the country are upping security measures. The NYPD tweeted: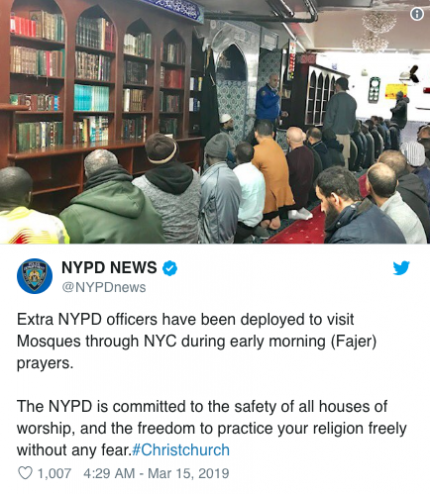 United States President Donald Trump tweeted the following in response to the attack: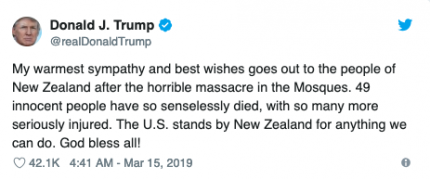 He isn't one with words, but "best wishes"?? He is the worst.
Check out full details via press conferences (below):
Our thoughts are with those affected by this senseless terrorist attack.
[Image via CNN via NZTV]
Read more: http://perezhilton.com/